Posted November 2, 2013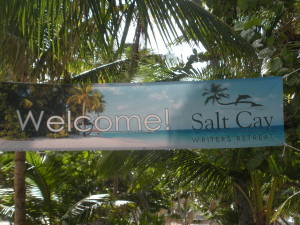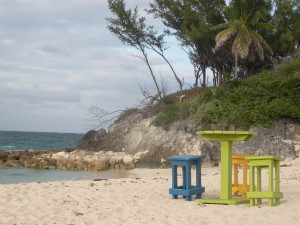 If ever there was the chance of me being dragged kicking and screaming from somewhere, it could have happened in the Bahamas – in the lobby of the Comfort Suites hotel or at the airport. An amazing week at the Salt Cay Writers Retreat was over and the prospect of going home (back to normal), descended on me like a smothering blanket. I did, however, resist the urge to barricade myself in the hotel room and demand asylum.
The six-day retreat was a dream and now, having been home a week, I keep looking at the countless photographs to remind myself that it really did happen.
The event was sponsored by Backspace "The Writers Place" and cofounders Karen Dionne and Christopher Graham, and I give them huge kudos for providing writers such an enriching experience. I have so many memories and new friends, and the thrill of having met with literary agent Michelle Brower, Folio Literary Management, and Jacquelyn Mitchard, #1 New York Times bestselling author, who both inspired and encouraged me with insightful critiques of my novel-in-progress.
Each morning, we took a ferry from Paradise Island, Nassau, to Blue Lagoon Island (once known as Salt Cay) where faculty led panel discussions and small writing workshops in the coconut grove.
I had the pleasure of getting a tour of the island by a member of the family that owns this tropical oasis.
I spent more time than I should have enthralled by a colony of ants transporting a fallen potato chip from beneath our picnic table to their home in a crack in a low wall.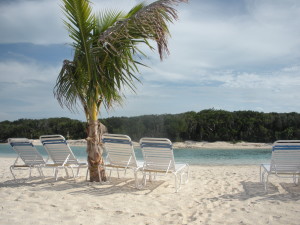 I swam almost every day in the lagoon – there really is a lagoon!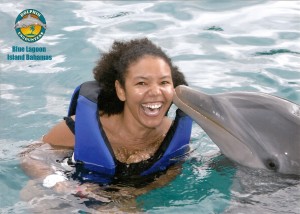 I hugged, kissed and swam with adorable dolphins from Dolphin Encounters, a marine mammal facility on the island.
I, along with my cohorts, enjoyed a night of "extreme reading" as my fellow writers struggled to read during what felt like a hurricane. Donned in chic plastic bags, we laughed through the ride home on the ferry.
I enjoyed our last night's entertainment, a very fun and flexible limbo artist.
Oh, and I got some writing done. I really did!