Posted December 31, 2013
Back in the spring of 2011, I was busy working with the publisher to get my novel, "The Color of My Soul" in print. I had to write a brief bio that appears on the back cover. The last line says that when I'm not working I enjoy walking my dog. My dog, then, was Wisteria, a hound-pit bull mix. I had adopted her in 2006 from the Washington Animal Rescue League when she was just a few months old. We had participated in the organization's annual fundraiser and at the behest of my son, Chris, we stopped by the facility to look at the dogs. I hadn't committed to the idea of getting a dog until we sat in the visiting room with this adorable brindle puppy. Chris sat cross-legged on the floor and the puppy immediately jumped into his lap. And that was that.
The July before my book was released, Wisty was killed in a hit-and-run accident. Her death was much harder on me than I expected, and she left a space I didn't know how to fill.
When the Washington Humane Society announced it was waiving the adoption fee because of an influx of dogs, it got me thinking. I looked through the many dogs on the website and saw a cute face that reminded me of Wisty. This one's name was Karma. I set off the Monday before Christmas day with Chris and because of the waived fee, I didn't expect her to still be there. But she was.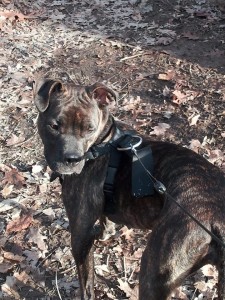 We walked down the narrow walkway between the cages and I spotted her name on the tag. She was curled in a ball on the bed; I tapped on the bar and called her name. She lifted her head and growled, looking at me suspiciously. Maybe this wasn't a good choice, I thought. But I figured I'd give her the benefit of the doubt. We took a seat in the visiting room and waited. When the door opened she bounded in with much face-licking and tail-wagging that I wondered if this was the same dog that had growled at me. Apparently she had been afraid of the tapping on the bars. We sat for a while watching her chase a ball and sit for snacks. And that was that.
When we brought her home, Karma ran around the living room throwing a rope toy around as if she couldn't believe she had been adopted. I felt pleased that I had given her a home. In the week that she has been with me I have lost a melancholy that had plagued me recently and rediscovered my enthusiasm to be up and active. I also realized how out of shape I am. We walk every morning and I'm teaching her not to pull me. Although her zeal can be a bit overwhelming at times, she is learning to stay and sit when I need her to be calm. (I will be signing her up for a training class in the New Year.)
For me, life is much more fun and interesting with a dog. She reminds me:
To be a better person,
To give love without conditions and with unbridled enthusiasm,
That when I question my purpose in life, I can begin with having given her a safe and loving home,
That frequent praise creates positive energy,
That a chewed shoe isn't the end of the world,
That there is nothing more satisfying than walking through the woods with a creature that delights in everything around us, and,
That love comes in all shapes and sizes.