Posted April 22, 2013
Renowned author Terry McMillan is larger than life, stunning in an exaggerated way and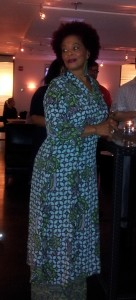 colorful, from her natural hair to her deep red lipstick to her green print dress. She was in D.C. recently for an event with the PEN/Faulkner Foundation and I had been invited to attend a cocktail reception in her honor. I was thrilled – I had never met Ms. McMillan and had previously only seen her from a distance. I admit, I was a bit nervous to introduce myself, but I wasn't going to miss the chance, so I sidled up to her as she spoke to a tall gentleman and waited for an appropriate moment to either join the conversation or say hello. A jumble of questions swirled around my head – where did you get that gorgeous dress?… no, no can't ask that. What are you currently working on? Do you have a writing schedule? How do you get motivated to write? I hear there's a sequel movie to "Waiting to Exhale," what is your involvement with that?
The tall gentleman, it turns out, was Dr. Frazier O'Leary, president of the PEN/Faulkner Foundation, who was exceptionally charming, and not because he wants me to send him my novel, but more because of his encouraging words to me and his enthusiasm for writers in general.
As they chatted, I waited wondering if I appeared rude hovering over their tête-à-tête. Ms. McMillan caught my eye a few times but made no acknowledgement. No problem, I thought. Clearly she was engaged in conversation with Dr. Frazier and when the right moment presented itself I would jump in. So I waited. Finally, an opening and I stepped forward, put my hand out and said, "Hi, my name's Melanie Hatter. I'm a small writer here in D.C." Dr. Frazier immediately piped in, "There's no such thing as a small writer." Ms. McMillan looked at me as if I smelled funky, squinted her mouth and said, "Why would you say that?" I opened my mouth to respond but nothing came out.
The answer: because I was a bit awestruck and felt negligible standing next to her, not only in physical size but more so in terms of my small press success compared to her vast array of writing contracts and blockbuster movie deals. I don't even have an agent! Although I didn't mean to downplay my ability as a writer or my success – trust me, I can't express how proud I am of what I've achieved – but in that moment I felt … well … small.
Almost instantly Ms. McMillan was introduced to someone else and the moment passed. Dr. Frazier kindly chatted with me, asking me to send him my novel so I could come and speak at his school, before he had to rush off.
Later that evening, I laughed about meeting Terry McMillan when retelling the story to a friend. As I reflected, I hoped that if I ever become rich and famous and a "small" writer approached me, saying something disparaging about their own abilities, that I would respond with a positive and uplifting remark. In these tiny moments, sometimes we all say and respond without thinking, leaving unintended impressions – good or bad.
Writer Napoleon Hill said, "Think twice before you speak, because your words and influence will plant the seed of either success or failure in the mind of another."  I will keep this in mind. How do you want to be remembered?