Posted April 7, 2012
I spent three wonderful days with my dear friend, Amanda, attending the Eleventh National Black Writers Conference held at the Center for Black Literature at Medgar Evers College, CUNY in Brooklyn, NY. It was inspiring. Here are a few observations and quotes.
Sonia Sanchez is class, smooth and jagged, gentle and sharp… she carries the heart of a warrior now wise from many battles; her voice continues to speak of love and to reach those who will listen, and I sat and listened.
One of the sessions featured a film about Ms. Sonia Sanchez, poetry icon and professor emeritus at Temple University. "Sonia Sanchez: Shake Loose Memories," covered her life as cofounder of the Black Arts Movement, pioneer of the Black Studies Program at San Francisco State and human rights activist. The session was followed by a panel discussion that included Jamal Joseph who directed the film. He said he wanted viewers to feel like they were sitting in Sonia's home chatting with her.
In talking about peace, Sister Sonia said, "Peace is a haiku. You can't teach peace until you teach [young people] how to breathe from the abdomen. By doing that, you teach them about life, not death." In her classes, she has an exercise where she asks the students to sit opposite each other in pairs and to put their right hand on their partner's heart. When they do that and feel the other person's heartbeat, "they see a human being and it's an amazing moment. Teach them how to breathe and you can teach them to haiku, then they look at themselves as human beings."
Opal Palmer Adisa, teaches at the California College of the Arts and editor of The Caribbean Writer, speaking on the migration of black writers:
"We look at our identity as where we are from – we identify with our nation. Blackness is not homogenous, whether you are from Africa or the Caribbean. Scholars tend to compartmentalize black writers. … Migration is not just one way. How is the synergy of this movement impacting the cultures of each place as it moves back and forth from North America to Africa to the Caribbean? … As a writer, you have to respect the craft and read widely. We shouldn't let people prostitute the art of writing."
Uche Nduka, poet, photographer and spiritual activist, speaking on the migration of black writers:
"We should not narrow ourselves down. An individual artist should be loyal to his/her own life. We have to be all-inclusive. There is no particular way to be black these days. Live your life. … Anything that limits us, I kick against. Africa is not just a continent 'over there.' It is here. It is everywhere."
Tavis Smiley, broadcaster and author, on books and being a writer: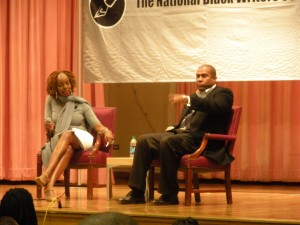 "This is difficult work. Be creative. We must get away from believing success is being on the New York Times bestseller list. Don't define success by book sales. It's about doing the work that needs to be done. … You can be successful without being great, but you can never be great without being successful. Donald Trump is successful, but he's not great. … Being black is a perpetual audition." Commenting on the success of the movie, The Help, he said: "After all these years after Hattie McDaniel, we're still celebrating maids. There's so much more about us to be said. Every one of us is a story."
Dr. Michael Simanga, director of the Fulton County Department of Arts and Culture, speaking on a panel discussing Malcolm X:
"Slavery was a condition, not a destiny. Malcolm reclaiming himself is a metaphor for us as a people to reclaim ourselves. … Malcolm was reclaiming himself for himself. His life was our life. His voice was our voice. His struggle was our struggle. His life was a metaphor for our collective life."
And speaking about the role of black writing in pop culture:
"The artist's role is to illuminate our humanity. All human stories are essentially the same; the difference is context. The greater society's culture institutions continue to depict us in a single way. We need to have a greater discourse about what we should accept and stop giving people a pass because they are making money."
Troy Johnson, founder of AALBC.com (the African American Literature Book Club), speaking about social media:
"For me, the jury is out on whether or not social media is productive. … Something like 56 percent of Google search results go to Wikipedia. [In trying to find black-owned businesses and services] if you don't know they exist, you won't find them because they're on page 37 of the Google search results."
~~~~~~~~~~~~~~~~~~~~~~~~~~~