Posted August 14, 2013
I love to write. So why is it a struggle to sit down at the computer and do just that? When I should be writing, suddenly that load of laundry becomes an urgent endeavor and cleaning the bathtub is an appealing thought. But I love to write, don't I? As Dorothy Parker once said, "I hate writing, I love having written."
Truth is, I do love writing. When it flows, I'm completely lost in the words and the story. But that magical flow doesn't come easily every day. And as a writer, I should be writing every day, not waiting for that flood of words to hit me.
Several years ago I started a writing group. It began as a few friends and grew to about a dozen people. We would meet once a month at a member's home who volunteered to host and critique two-three pieces submitted by those who had something to share. We lasted a year or so, if I remember correctly, but as things do, it fell by the way side. My work schedule became overwhelming and I wasn't able to take the lead in organizing it. So I took a break.
A little over a year ago, four of us reconnected and started the group again. (The group now has six members – a nice manageable number.) I hadn't been writing much of anything while telling people I was working on a collection of short stories. Celeste, one of the members and a fantastic experimental fiction writer, asked me about becoming a writing buddy. We both had flexible schedules that would allow us to write during the day. So we embarked on a writing buddy system whereby each week we plan our schedule for writing time – no longer than two hours, sometimes as short as 30 minutes, depending on our schedules. Some days we don't write together and that's when we're supposed to write on our own for a minimum of 15 minutes. I will confess, Celeste is much better at the "on-our-own" writing sessions than I.
Every day, I thank Celeste for developing this system. Without her I would still be telling people, "Oh yeah, I'm working on a collection of short stories." But since working with this buddy system, I'm halfway into a second novel and have started a new short story for my collection. I won't say that it's always easy – some days I write 100 words, but on others they flow into several pages' worth.
It may not work for everyone, but for those of you who are struggling to maintain a writing schedule, it's something to consider. Find a fellow writer and see if you can work something out. It's just like going to the gym – having someone else to go with is more fun than going by yourself. The key is having someone who's in the same boat, trying to move their work forward and in need of daily motivation.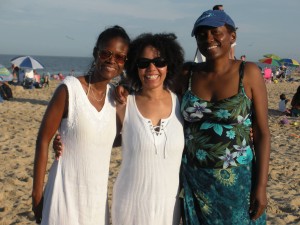 Most recently, three of us from the writing group (Traci, me and Celeste) took a long weekend to Rehoboth Beach and conducted a mini-writing retreat. It was fabulous! Again, I give credit to Celeste who we named "camp counselor" – she created a schedule that included lots of writing time and positive affirmations. Being together – each of us focused on our writing – gave us a great boost of motivation and inspiration. Yes, when you get down to it, writing is a solitary endeavor, but having friends traveling a similar path who can help to encourage you along the way is (for me) a wonderful part of the writing process.