In November, I will have a big birthday. And when I say big, I mean 5-0 big! (I can't say the word, it's too disconcerting. As a friend of mine said, it's like coughing up a fur ball.) Most birthdays come and go fairly quietly, but this year I envisioned something more adventurous … a trip out West or a big birthday party, something fun to mark the occasion. After all, as scary as aging may be, I am grateful to be here to celebrate another birthday.
But something much more amazing has come about. I have been accepted to a month-long writing retreat in Bali, Indonesia,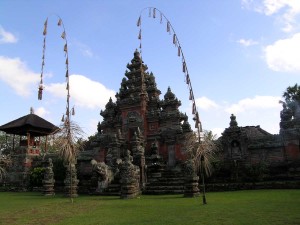 starting on November 6. With the help of an assigned writing coach, I will spend four weeks with 29 other participants, completely immersed in writing my next novel. The program's goal is for each of us to complete a first draft of a book by the end of the retreat. This supportive, writing-intense environment will include yoga, meditation and sight-seeing trips on Sundays. I don't doubt it will be greatly productive and, in many ways, personally transformative.
At first, I was hesitant to accept because of the cost, which is overwhelming, along with the fact that being self-employed means no income for the month I'm gone, but a friend reminded me that this was the reason – the chance to write full-time and embrace life-changing experiences – that I struck out on my own, rather than continue the corporate grind. This truly will be a once-in-a-lifetime experience that I cannot turn down for fear of being in debt.
I give thanks to my friend, Michon, who has also been accepted and encouraged me to apply. We will take this journey together.
And I invite you to (virtually) join me on this journey. I will post updates and pictures on Facebook and Twitter (@mshatter1) as often as I can. In the coming months, your love and support will be important in keeping me focused and motivated to reach my financial goal so that I don't incur too much debt.
No, I won't be asking you to send me money (although if you want to as a birthday gift, I won't say no!). But I hope that you will support me by using and/or referring my services (massage and editing). I have set up an account on Fiverr, offering low-cost writing services, and my web site provides details of my book editing services, but I'm open to discussing your writing needs. Also, look out for me at various book festivals and events over the summer. This Saturday, June 13, I will be signing books at the Fenton Street Market in downtown Silver Spring. Do stop by and say hello. And mark your calendar for Saturday, June 20 when I will be at the inaugural Juneteenth Book Festival at the St. Elizabeth's East Gateway Pavilion in Southeast D.C.
I am thrilled to have this opportunity to focus on my writing in an inspiring and stunning part of the world. I look forward to sharing the experience with you.