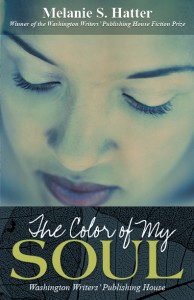 The Color of My Soul is available in print and e-book formats on
Amazon.com, Kindle, barnesandnoble.com, Nook,  politics-prose.com and Kobo. Also available at Sankofa Video Books & Cafe in D.C., across from Howard University.
Read the Washington City Paper Review.
A regular selection in D.C. Public Schools as part of the PEN/Faulkner Writers in Schools program, and selected as the "big read" at McKinley Technology High School for summer 2015.
Living in Southwest Virginia in 1993, Kira Franklin begins to question her own culture when she pursues a story on a local Cherokee community raising money to reclaim ancestral lands. The Harper family is part of a long line of Cherokee leaders, and their knowledge and devotion to retaining their history make Kira long for a sense of self. But the history she knows about her own family – that her father fought and died in Vietnam – gets turned on its head when her mother announces that her father is alive and very different from the person Kira had imagined.
Novel Excerpt
From Chapter Two
KIRA slipped through the colorful beaded curtain from the back of Big Bear's Cabin into the shop front, her perspective shifting from history to souvenirs that represented a culture struggling to find its footing. The interview had ended. John Harper, known to most as Big Bear, keeper of the family history, of his people's history, sat in the office behind her. His stories had gone back to the 1700s, stories passed through generations, stories of the great Chief Gray Wolf and his sons Quiet Hawk and Long Arrow, stories of war, of grief, of survival. Laid out before her were links to the past: Native American jewelry and trinkets in glass cases, paintings and sculptures in every nook, and mobiles hanging from every beam. Her mind was awash with images and people she wanted to write about. She would be back. This story – a story about the local Indian community reclaiming ancestral land, re-affirming their heritage – was too good, too important.
She stood in the shop regaining her sense of the present. A young man, a third generation of Harpers, leaned over a glass jewelry case. She had spied his long slim legs upon her arrival. As she approached him, a spicy fragrance greeted her. He carefully laid on the black velvet a silver wolf pendant, designed so that strands of silver imitated the animal's fur, its eyes two turquoise gems.
"That's beautiful," Kira said so quietly she wasn't sure the words were spoken aloud.
Alex closed the lid and stood straight, looking down at her. "The pendant is an original," he said, glancing at his father, Richard, who had followed Kira out of the back office. Alex threw out a price: "Two-hundred-and-fifty dollars. For you, two hundred."
She grinned. "I'm on a reporter's salary. But feel free to give it to Santa Claus, and he can deliver it to me for Christmas."
Alex hesitated. His smile came slowly, wrinkling the laughter lines around his dark eyes. She listened to the deep resonance of his voice as he explained that he had designed and created the pendant himself under his grandfather's tutelage. Big Bear was a certified jeweler, and Alex, his apprentice. He talked about the design, how he had struggled to arrange the strands of silver to represent the animal's fur. Kira stared at the necklace, enamored with its detail and delicacy, but more captivated by this unity, this family legacy being shared from one generation to the next.
The bead curtain, separating past from present, tinkled as Big Bear emerged from the back room filling the shop with his presence. "My eyes are not as good as they used to be and my hands are not as steady, so I don't do it much no more," he said. "My grandson is a gifted artist. When he puts his mind to it."
Alex rolled his eyes. "I'll never be as good as you, though," he said, returning to his perch behind the counter. Kira moved toward him, but Richard caught her hand and shook it vigorously, thanking her for listening to their story. His fingers tightened around hers. "If there's anything else, anything at all we can do, just call."
She assured him she would get in touch soon. Looking at Alex, she said it was nice to meet him, too. He simply nodded. As Kira left, the old-fashioned bell above the door tinkling madly, she heard a voice shout, "Wait!" She turned to see Alex coming toward her, waving a page from his sketchpad. "This is for you," he said as he handed her a pencil drawing that fluttered in the warm breeze. She stared at the image he had drawn of her in her dark pants and sleeveless white shirt, short curls covering her head, hands clasped casually in front. She had stood awkwardly in the midst of the shop, awaiting Richard who was in the back on a call with a supplier. Alex had watched her, and now she understood his stare. A small curvy "A" was signed at the bottom. When she looked up to say thanks, he had disappeared inside.
She stared at the picture, an emptiness rising suddenly in her chest. Who was this person in the drawing? Who were her ancestors? Her father had been killed in the Vietnam War when she was a baby, and beyond that fact she knew nothing of him. Her grandfather had been a Baptist preacher, and her mother's grandfather and great grandfather had been farmers. She had never researched her ancestry, preferring to delve into other people's stories. But the interview with Big Bear and Richard Harper had unwrapped a hidden parcel inside her. She was in awe of the vast historical knowledge they had shared. This was information that had guided them as they grew up; they hadn't needed to research their identity because they knew their stories by heart. By contrast, her family—what was left of it—had lost the art of storytelling. Her mother didn't talk about the past. In the black community, slavery had destroyed many of those historical lines, those family connections that push each generation forward, leaving black families unsure of where they were from. Children had been torn from their mothers, fathers were sold and shipped off to different plantations, different states. And here this Native American family, whose history included wars and segregation, reservations and tears, this family had preserved its history. Kira felt a surge of envy for the Harper family – they understood precisely who they were.